Data is Coming
The hit TV show Game of Thrones has won critical acclaim and the attention of millions of fans with its inspiring cinematography and brilliant dialogue. Dedicated fans of the show can recall critical scenes and key quotes with ease, but can they pick out high-level trends that emerge over the course of the series? For instance, in which season was the frozen North the focus of the plot? With all the violent twists in the plot, how often does the show's dialogue tend toward the topic of death? Our system seeks to highlight these large-scale patterns that might otherwise be missed.
Our visualization highlights the high-level aspects of each Game of Thrones episode, separating the data into visual and textual components. We process over 60 hours of video data and its subtitles (dialogue only) into nominal and quantitative variables of color and text frequencies as follows.
---
The Color
Color quantization is a process that reduces the number of distinct colors used in an image, usually with the intention that the new image should be as visually similar as possible to the original image. We use the well-studied median cut quantization clustering algorithm from computer graphics (Heckbert 1982) on our data in order to extract the top ten most dominant colors in an image. Here's an example of color quantization applied to the title screen: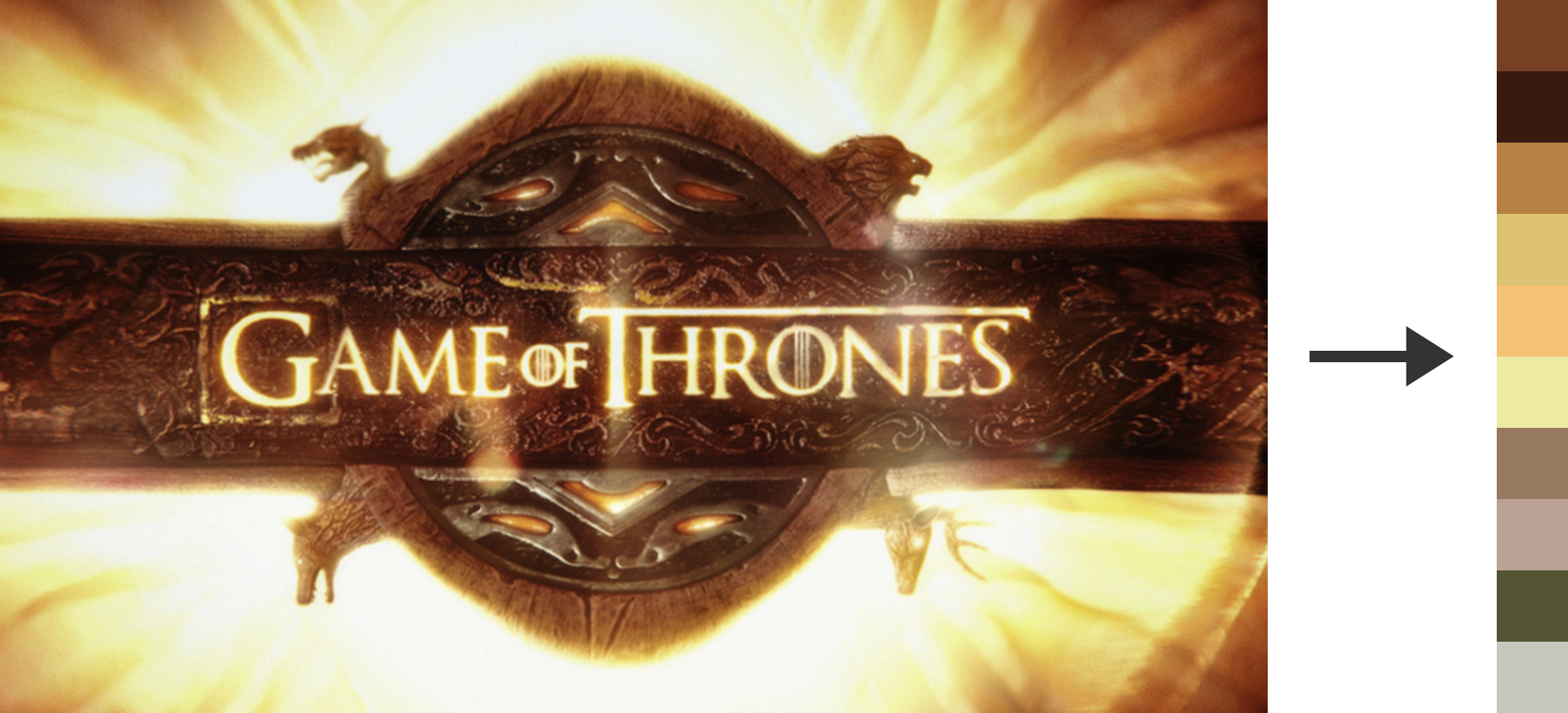 Since this technique requires stills, we segment the video data into frames at a rate of one frame per second, producing on average 3,600 images for a 60-minute episode. Now we divide each episode into 60 time slices of equal size and extract the top ten colors from each slice to get one color palette. For six seasons of ten episodes each, that means our color data distillation looks like:
60 video hours → 216,000 images → 3600 color palettes
In total we are crunching approximately 75GB of video data into 0.7MB of RGB color values. Our color extraction technique highlights the most visually salient colors within the data, which are often different from the most frequent colors. An example of this is seen below in the 2nd time slice of Episode 1 of Season 1 (S1E2), "Winter is Coming":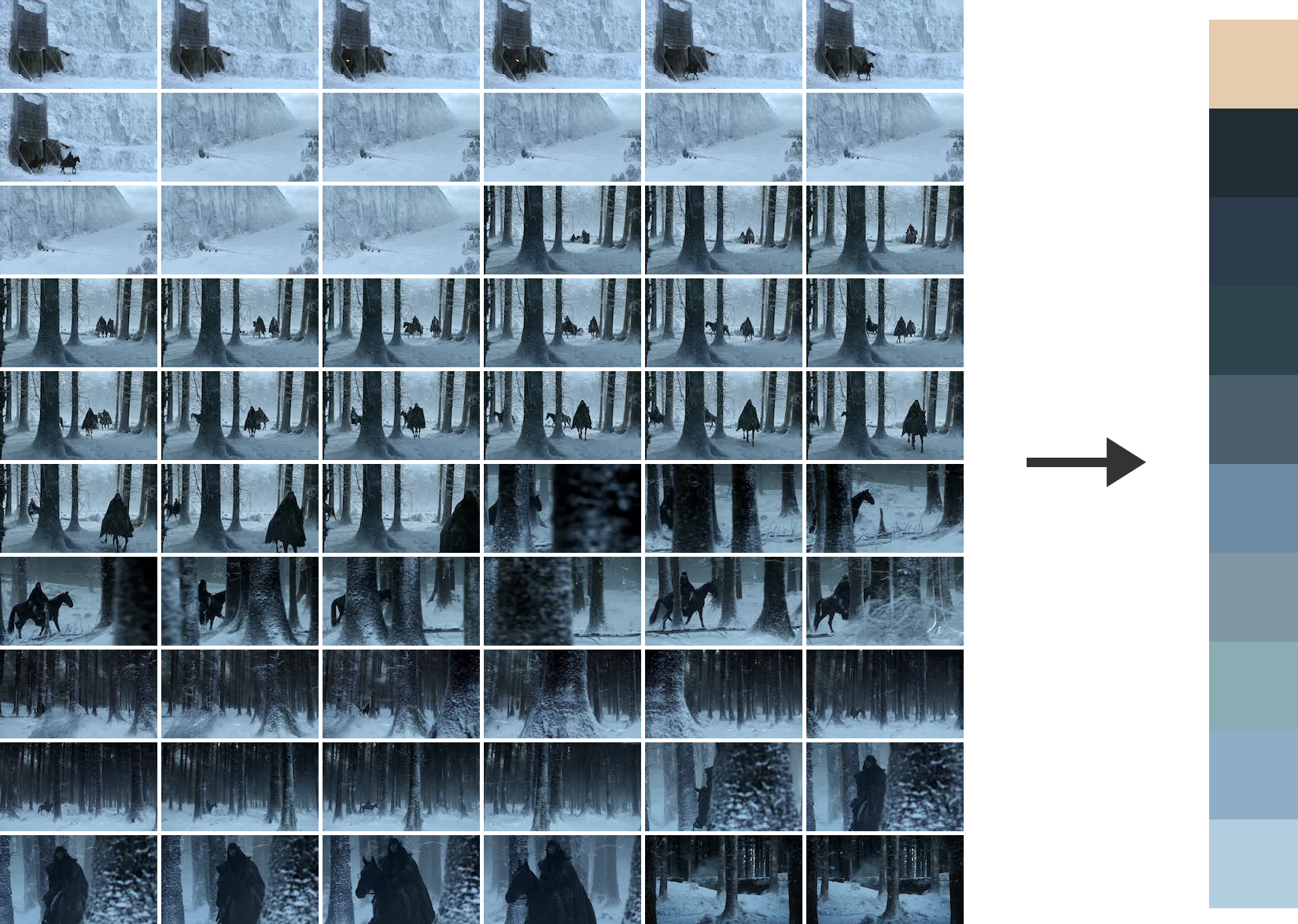 ---
The Text
Similar to the color extraction, we first segment each episode into 60 equal-sized time slices and group all dialogue within each slice. We then annotate the dialogue for words that fall into one of the following categories: anger, death, family, home, humans, negative affect, positive affect, religion, swearing, and sexual.
These categories are a subset of those provided by the Linguistic Inquiry and Word Count, which is commonly used for automated textual analysis (Tausczik and Pennebaker 2010). We selected these categories due to their relevance to the Game of Thrones dialogue: for instance, Tyrion Lannister is known for his colorful swearing habit which is captured in the "swear" category.
From the annotated dialogue, we extract the raw frequency of each category at each time slice, as well as the individual word frequencies at each episode. An example of the full pipeline is provided below.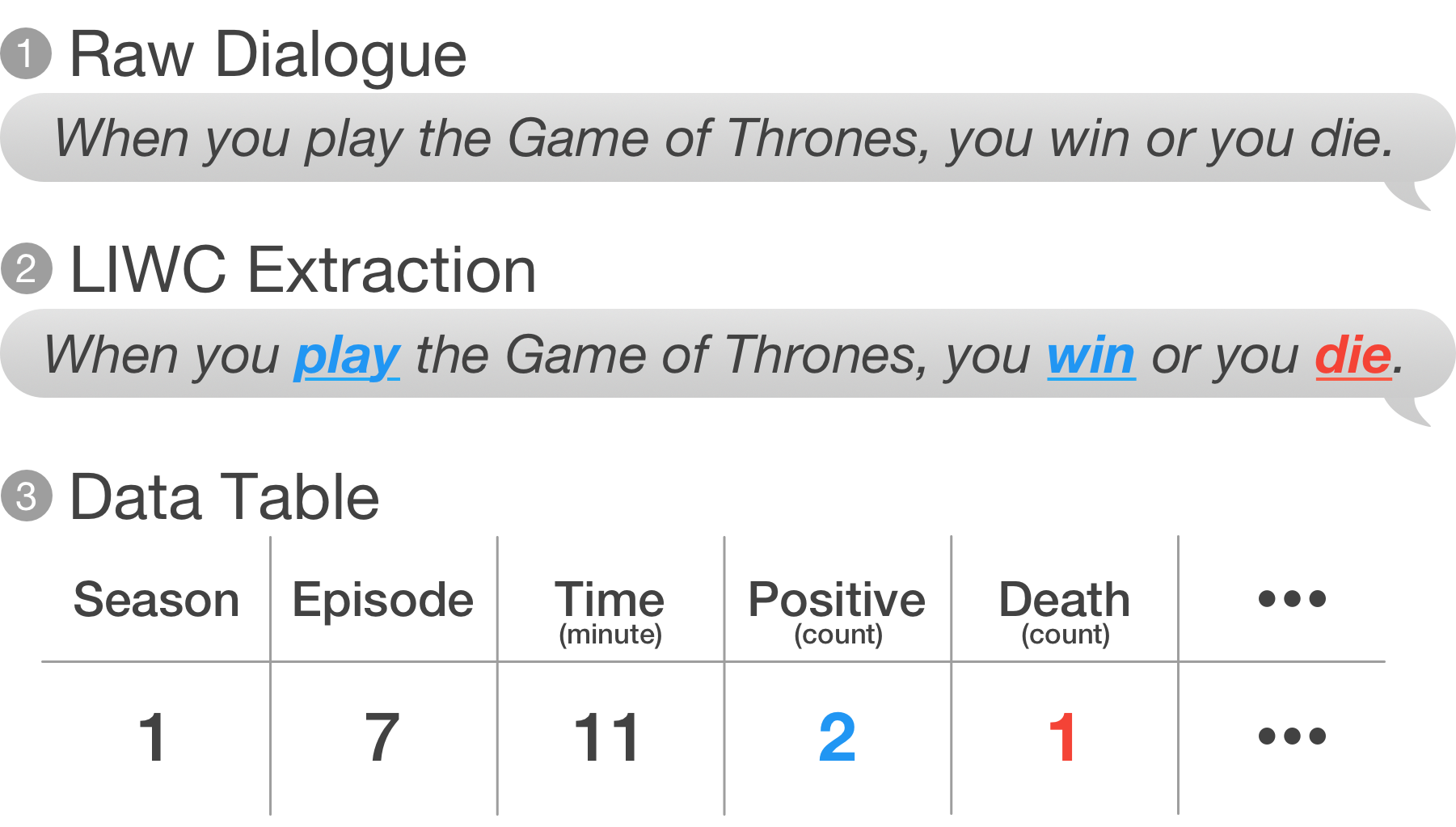 ---